---
---
"We all need to feel comfortable, and yet inspired, every time we walk into a room. This sense of spirit is what drives me to this day and is what I consider the litmus test for a successfully completed project."
– Douglas Truesdale
---
Douglas Truesdale is principal at Douglas Truesdale Interior Design, a luxury interior design practice based in southern California. With over 30 years' experience in the field, Douglas has worked nationally and internationally, with projects in California, Florida, Indiana, Pennsylvania, Washington, D.C., New York, Connecticut, Rhode Island, Massachusetts, New Hampshire, Maine, Costa Rica, Moscow, and Eleuthera, Bahamas.
Douglas' family background was a profound influence on him growing up and would be the foundation for his career in interior design. His paternal grandparents worked with famed American decorators Ruby Ross Wood and Billy Baldwin. His grandparents had homes in New York City, Greenwich CT, Bermuda, and Maine. Douglas' childhood homes in Greenwich and Maine were decorated by Billy Baldwin as well. But it is Douglas' grandmother who became his most influential design muse. Alice Truesdale was quite a formidable woman who had impeccable taste. She was fluent in French, dressed primarily by American couturier Mainbocher, traveled the world, collected art, antiques, and porcelain, slept in Porthault sheets, and generally lived a refined, stylish life.
Visiting his grandmother as a child would form Proustian memories for Douglas of taste, elegance, and etiquette. It was the experience of being immersed not only in this lifestyle, but also in interiors conceived by two of this country's most influential designers, that enlightened Douglas to the power of interior design: that if done correctly, it transcends the visual and becomes more about a complete sensory experience.
Douglas' philosophy is to create tailored, customized environments. Editing is important — a room should have carefully chosen, beautiful things in it, where each element has "room to breathe" and be viewed as part of the whole. This whole not only includes one's surroundings, but one's sense of spirit — the reason we all need to feel comfortable, and yet inspired, every time we walk into a room. This sense of spirit is what drives Douglas to this day and is what he considers the litmus test for a successfully completed project.

The firm has had their work recognized by major publications including Architectural Digest, Traditional Home, Luxe Interiors + Design, The Hollywood Reporter, LA Confidential, Domaine Home, Beautiful Homes, New England Home, Design New England and Cape Cod Home.
---
Douglas' background was a profound influence on him growing up and would be the foundation for his career in interior design.
---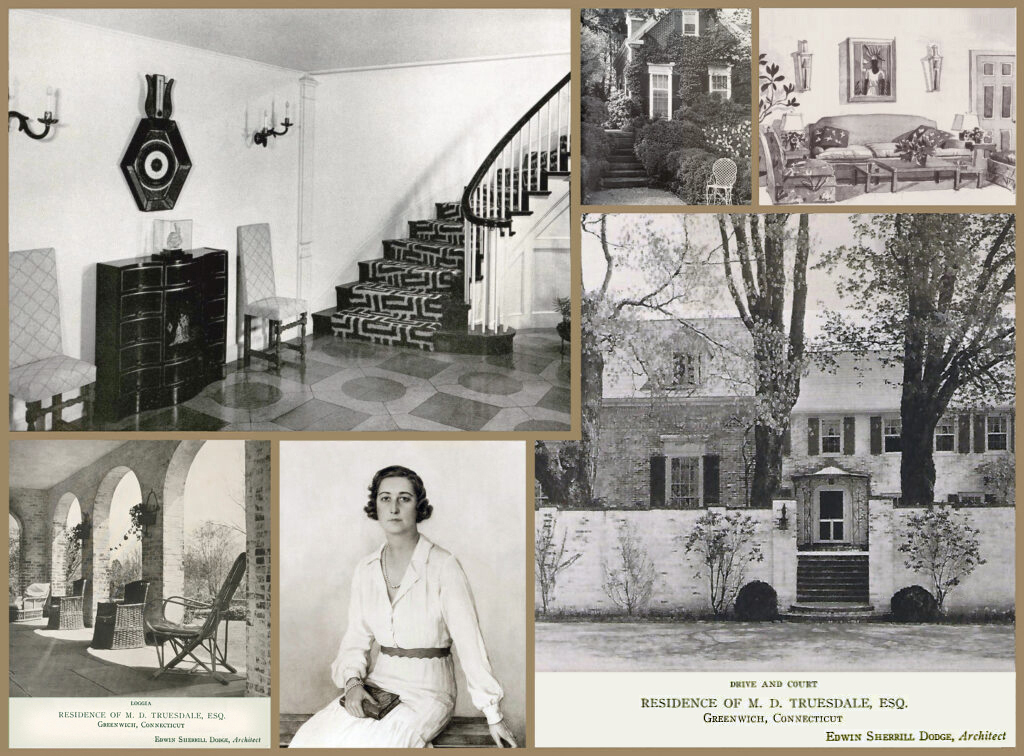 From left to right, and top to bottom: Foyer of M D Truesdale residence, Greenwich, CT as it looked in the 1960's, decorated by Billy Baldwin. Garden view of the Greenwich residence. Landscape design by Ellen Biddle Shipman. Watercolor rendering of M D Truesdale's Bermuda living room painted by Mark Hampton, from his book "Legendary Decorators of the 20th Century"; decoration from the 1940's by Ruby Ross Wood. Loggia of the Greenwich residence. Portrait of my grandmother, Alice Truesdale, painted by Elizabeth Shoumatoff. Entrance façade of the Greenwich residence.